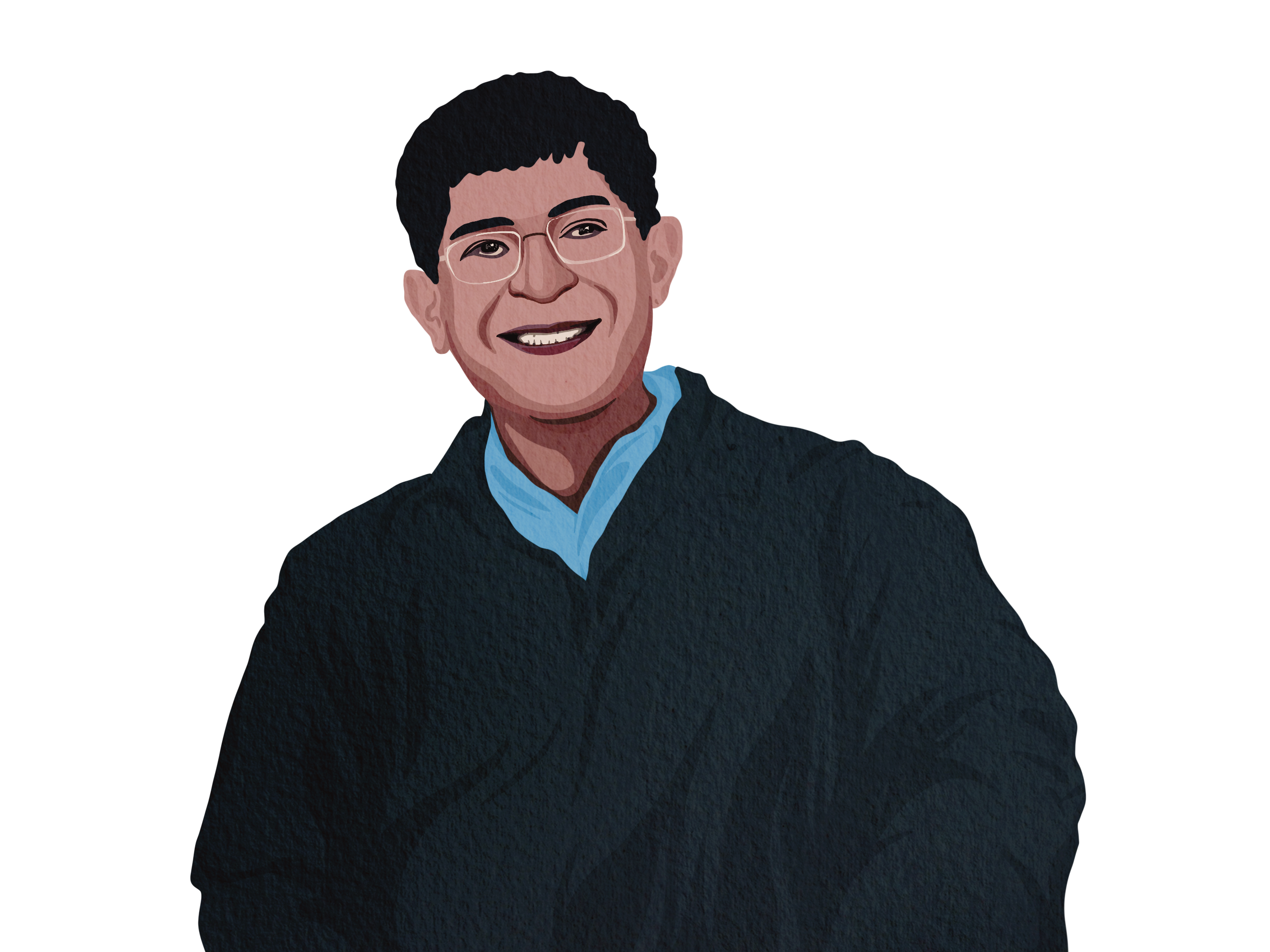 John Kuriyan's love of nature is self-evident after a glance at the vivid feathers displayed on his Flickr gallery. He has photographed dozens and dozens of different bird species, each with a unique set of characteristics that allow it to thrive in its natural habitat. This fascination with nature's diversity led Kuriyan, professor of chemistry and molecular and cell biology at UC Berkeley, to both study proteins and realize how to share his love of science with students.
Proteins conduct many of the biological functions necessary to maintain healthy cell function. Just like birds, proteins exist in all shapes, forms, and sizes. "That same diversity in life, with birds … you see in protein molecules," comments Kuriyan. His research consists of deciphering the structures and mechanisms of proteins at an atomic level. By doing so, his group has revealed mechanisms describing how dysregulation of certain proteins may cause cancer and how certain anti-cancer drugs target sick cells. One current project in the Kuriyan lab focuses on a mutant protein known to cause blood and bone marrow cancer. Although a treatment exists, certain patients with this mutated protein are resistant to drug treatment. Uncovering the molecular basis of this drug resistance is possible due to researchers in his group that develop these projects.
Just as significant as his projects are who Professor Kuriyan employs to assist in his research. Beyond graduate students and postdocs, Professor Kuriyan's lab has hosted more than 100 undergraduate researchers over the span of his career at Berkeley. Kuriyan has made it a point to allow students with less experience to take part in research. "If you come from a background that wasn't exposed to science, the doors to research groups are shut. Students who are motivated may end up not doing so well—your grades don't necessarily reflect that motivation," he states. He also mentions that successful graduate students often want to train undergraduate students with less experience or below-average grades if they are enthusiastic. A current undergraduate in the Kuriyan lab shares, "They've [Kuriyan] taught me a lot about staying curious, trusting myself, and to continue being enthusiastic about learning."
However, keeping this enthusiasm in an institution as large as Berkeley can be challenging. Kuriyan notes that "some students are very bright and very smart but have not been oriented about how a school like Berkeley operates. They're expected to be completely self-driven and motivated." Recognizing this problem led him to start an undergraduate tutoring program for the biophysics course he teaches, where students are asked to volunteer as tutors for the semester after they finish the course.
Beyond the coursework, the program also relieves students' social and cultural needs as well. "Berkeley is so huge; you always end up feeling so lonely … the tutoring program lets you meet people with similar experiences. You can learn a lot of tips from older students," comments a current undergraduate tutor. This sense of belonging is furthered by the fact that Kuriyan attends every tutoring session. He explains, "If you're at a place like Berkeley, you can't even approach a faculty member after a lecture. So, I started just doing something simple. I sit in the back of the room and, slowly over the years, students would come and start talking to me about all sorts of things."
After over 35 years of being a professor, 18 of those at UC Berkeley, Kuriyan will begin as dean of the School of Medicine Basic Sciences at Vanderbilt University at the beginning of 2023. Kuriyan explains, "After taking [an] increasing [number of] roles in faculty governance and committees, I've realized there's a part of me that enjoys reading about other people's work … I've decided I'd like to spend the next few years with the balance tipping towards helping other faculty, rather than solely on research."
As Professor Kuriyan soars towards the new skies of deanship, he leaves a profound impact on the bioscience community at Berkeley. His commitment to undergraduate education and mentorship will continue to inspire students of all sorts of backgrounds to leap from their nests and pursue their passions in research.
---
Héctor L. Torres Vera is a graduate student in molecular and cell biology
Design by Sunnie Kong and Yu-Jen Lin
This article is part of the Fall 2022 issue.